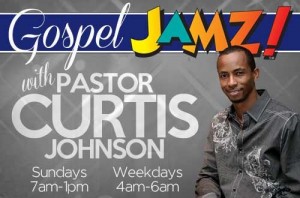 RE-Introducing the new Gospel JAMZ host, Pastor Curtis Johnson!
Pastor Curtis is BACK on 107.3 JAMZ on Sunday mornings, from 7am to 1pm, bringing you Gospel JAMZ live, with your favorite gospel tracks, interactive features, and a whole lot more! You can also hear him every weekday from 4am-6am!
About Pastor Curtis:
Pastor Curtis Johnson is the Senior Pastor at Valley Brook Outreach Baptist Church and has been a well-known advocate in the Upstate community, developing numerous initiatives such as MLK Dream Weekend and the Upstate Live in Peace Movement.
"We are thrilled to have Pastor Johnson back with his 107-3 JAMZ family, where he belongs," shares JAMZ General Manager Karolyn Mulvaney.
Echoing Mulvaney's enthusiasm, Elroy Smith, JAMZ Operations Manager says, "Pastor Johnson is a staple in the Upstate and his name is synonymous with 'Gospel JAMZ'. This will be an early Christmas gift for Pastor Johnson's enormous group of supporters."
He lives in Mauldin with his lovely wife, Charla and two sons.
Curtis Johnson
Chief Ken Miller adressed Rumors in the the Officer Jacobs/Deontea Mackey Fatal Shooting Case on the Kelly Mac Show today (03-31-16)  

107.3 JAMZ and Pastor Curtis Johnson wants to honor one Pastor or religious leader each month for making a difference in our community! Do you know someone that deserves to be honored for the work they're doing?
Keep on checking my page to see my latest posts!