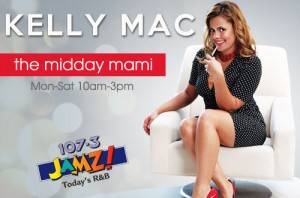 The Kelly Mac Show won RADIO SHOW of the YEAR at the 2014 SCBA Star Awards, and 107-3 JAMZ could not be more proud. Congratulations, Kelly Mac!!!
Listen to "The Midday Mami" Kelly Mac is on 107-3 JAMZ weekdays from 10am-3pm giving you the Today's BEST R&B Music, the biggest contests, and interviews with your favorite artists! If you want to know more about Mz. Mac, read on…
(And here's 20 questions with Kelly Mac, from Greenville Online!)
She was born and raised in Cleveland, OH.
She started off in radio as the receptionist, and look at her now!
She has one son, and is a single mom
Her musical idol is Mary J. Blige
She loves tropical places, the beach, warm weather and palm trees
HUGE Miami Heat fan!
TV/Movies she likes: New Jack City, Love & Basketball, Pretty Woman, Juice, Scandal, and The Game
Her favorite celebrity is GOD (but her favorite reality star is Fantasia!)
She loves cooking and shooting pool, traveling and shopping
Her favorite books are The Coldest Winter and Sista Soulja
Her biggest pet peeves are (deep breath): wet socks, nasty teeth, bad breath, dingy shoes, people who gossip, and teeth sucking. (I don't know what that is.)
If she weren't on the radio, she would be either on TV, a nurse, or a social worker.
Her perfect life: Love. Family. Health.
Kelly Mac's Blog
The Julie Valentine Center works to stop sexual violence and child abuse. Join us February 11th for the 6th Annual Julie Valentine Center Luncheon to hear Monika Korra, cross country runner, share her powerful message of survival