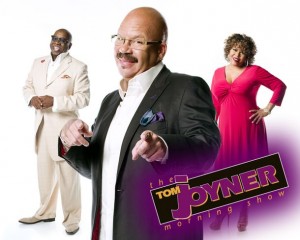 Weekdays, 6-10AM
Since 1994, The Tom Joyner Morning Show can be heard on radio stations across the country each weekday. Over 8 million ears tune into the show from their favorite local radio station. It is very well known that Tom Joyner likes to have a good time. He says, "First we get people laughing, then we get 'em to listen. If you can get people to listen, then they begin to think, and that's when they start making a difference".
Tom takes radio to a whole new level. Never before have African Americans been able to wake up to such an upbeat, entertaining and positive show. His accomplishments have not gone unnoticed. Tom Joyner was elected into the Radio Hall of Fame. He has received Impact Magazine's "Joe Loris Award" for Excellence in Broadcasting. He has received Billboard's "Best Urban Contemporary Air Personality" award. Impact Magazine's "Best DJ of the Year Award" was renamed "The Tom Joyner Award" because he received it so many times.
The Morning Show with co-hosts Sybil Wilkes, J. Anthony Brown also features senior news analyst and Roland Martin as well as "Inside Her Story" with Jacque Reid. CNN Newsroom Anchor Don Lemon contributes commentary on twice a week, Sherri Shepherd is a special co-host weekly, and comedian Gary Owen gives his unique perspective on hot topics every Wednesday. Joyner's website BlackAmericaweb.com generally logs more than 20 million page views and 2 million unique visitors on a monthly basis; with exclusive content from the top radio shows in urban radio along with news, entertainment, and lifestyle reports relevant to the black community.
Visit TJMS Online to connect with the Tom Joyner Morning Show!