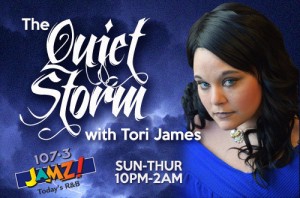 The Quiet Storm, Sun-Thurs 10PM-2AM
Call into the studio to Tell Tori at (864) 271-1073 or 1-800-767-1073. You can also click here to send Tori James your questions, comments, topics you want discussed… ANYTHING you want to send in! While you can remain as anonymous as you want, however Tori might use your question on the air.
Tell Tori can be heard each night during The Quiet Storm on 107.3 JAMZ. Every night, Tori pulls emails and phone messages from listeners that have questions about their relationships, their life, and sometimes more intimate situations. Tori receives 25 – 30 emails and messages each week from listeners all around the Upstate of S.C., Northern GA., and Western N.C. You can Tell Tori what's going on in your life, and Tori will tell you what you need to do about the situation. You may not like the answer she gives, because she doesn't sugar coat anything, but one thing is for sure: all of her advice comes straight from the heart.
You can also catch Tori on JAMZ Saturday afternoons from 12n-6pm!
About Tori James:
Tori James, host of The Quiet Storm on WJMZ 107.3 JAMZ in Greenville, is a native to the Upstate of S.C. This is where she loves call home. Tori started out in radio at the young age of 17 and has worked in several different radio formats. She started at 107.3 JAMZ in 2006 and added the Tell Tori feature to the Quiet Storm in August of 2014, and set the radio waves on FIRE! She uses her own personal experiences — along with her Degree in Psychology — to give advice to listeners that may be having problems with life, love, or relationships.
"I like to think of myself as a very open — and open minded — person, when it comes to different aspects of love. Sometimes, people just need to know that they're not alone in their problems, and that other people have been where they are. I've always been a great listener, and if I can help one person through something, whether it's just life in general or how to spice things up in the bedroom, then I have done my job," says Tori.
Tori James' Blog
Now is a time to come together not just as a city but as a State. Let's all take time to bow our heads and pray for the lives lost and the families that remain. This Sunday