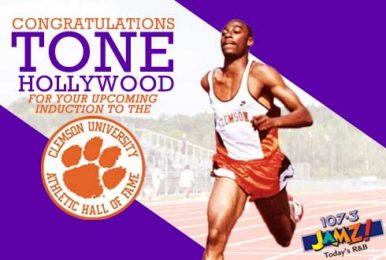 107.3 JAMZ and all of SummitMedia are VERY PROUD to announce that our own Tone Hollywood is being inducted into the Clemson University Athletic Hall of Fame this fall for his stellar track and field career as a Tiger.
Most know Tone as a funny, kindhearted, personable (and very handsome) radio personality, but few know that he's also a two-time GOLD MEDALIST!
Tone took home gold medals from the Junior World Championships in two track and field events: the 200-meter sprint (with a time of 20.62 seconds, beating out his Nigerian competitor by just two-tenths of a second), and the 4 x 400-meter relay (his team clocked a 3:03.32, surpassing Jamaica by almost a full second).
His remarkable accomplishments caught the attention of multiple colleges and universities, but upon visiting Clemson's campus, Tone knew he didn't want to go anywhere else.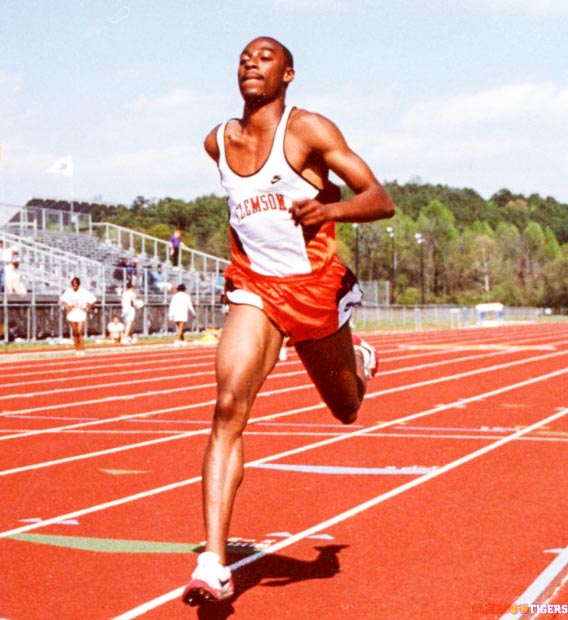 "When I went on my recruiting visit to Clemson, James Trapp and Michael Green were my two hosts," he said. "I fell in love with Clemson as soon as I walked on campus.  Sure, the facilities were great, but the people were awesome, too. I thought I could excel in track and with the services of Vickery Hall, I could graduate and get a great education."*
<– That's Tone, stretching out some warmup laps, early in his Clemson career.
For the Tigers, Tone was a seven-time All-American and an eight-time champion in the ACC: thrice winning the 200 and once in the 400, and a part of four gold medal relays. He also finished in the top three in both the Indoor and Outdoor NCAA Championships on multiple occasions.
Tone recalls, "One of the best memories that I have was when our team won the ACC Outdoor meet my senior season, and we broke the record for most points ever scored at the event."*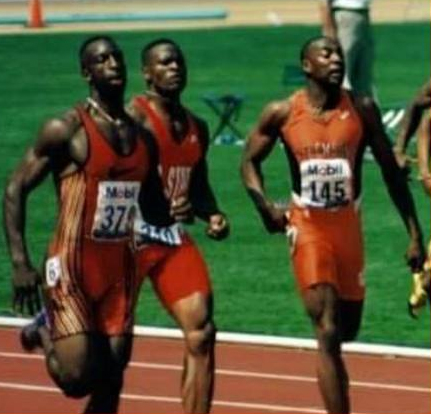 <– Here's Tone competing against – and keeping up with – four-time Olympic Gold Medalist, world record holder, and generally considered one of the best sprinters of all time, Michael Johnson, who went on to win the 1996 Summer Olympics with a World Record time of 19.32.
He attributes his success, in part, to great coaches: "I am really indebted to Coach Pollock and my sprint coach, Keith Barnier. They were great coaches. They helped mold me as a better athlete, but more importantly, they made me a better person. I really appreciate them giving me the opportunity to run track at Clemson. Coach Barnier understood me, and he loved his athletes and wanted them to have fun. Coach Pollock was one-of– kind, he was a great man and coach. He was firm, but fair, and I loved Coach Pollock and his family."*
Upon graduating, he had an opportunity to work in Vickery Hall with an assistantship, and it allowed him to earn his Master's Degree. While he was there, he began working at the campus radio station, and AREN'T WE ALL GLAD HE DID.
In 2003, he was named to the ACC 50-Year Anniversary Team. This year, in 2017, he will be named as one of the best athletes to compete at Clemson University, and inducted into the Clemson University Athletic Hall of Fame.
We have always been and continue to be incredibly proud to have Tone Hollywood as a member of the 107.3 JAMZ and SummitMedia family. Please join us in congratulating him.