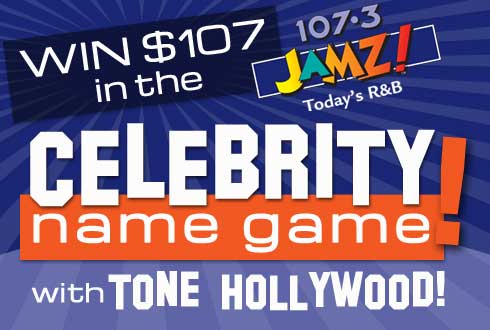 107.3 JAMZ wants to give YOU $107! All you have to do is play THE CELEBRITY NAME GAME with Tone Hollywood, weekdays on 107.3 JAMZ!
Here's how to play:
Listen for the cue to call, each weekday in the 11 a.m. hour, and be the 10th caller at 864-271-1073 or 1-800-767-1073
Tone will give you seven celebrity names, one at a time, and you have three seconds to name another celebrity with the SAME LAST NAME (for example, if Tone says "Richard Petty," you have three seconds to say "Tom Petty" or "Lori Petty" or whoever, but it has to be a real celebrity)!
If you can get ALL seven celebrity names, you win $107! That's it! (But it's harder than you think!)
Make sure you listen to Tone Hollywood during middays on 107.3 JAMZ for your chance to play and win!