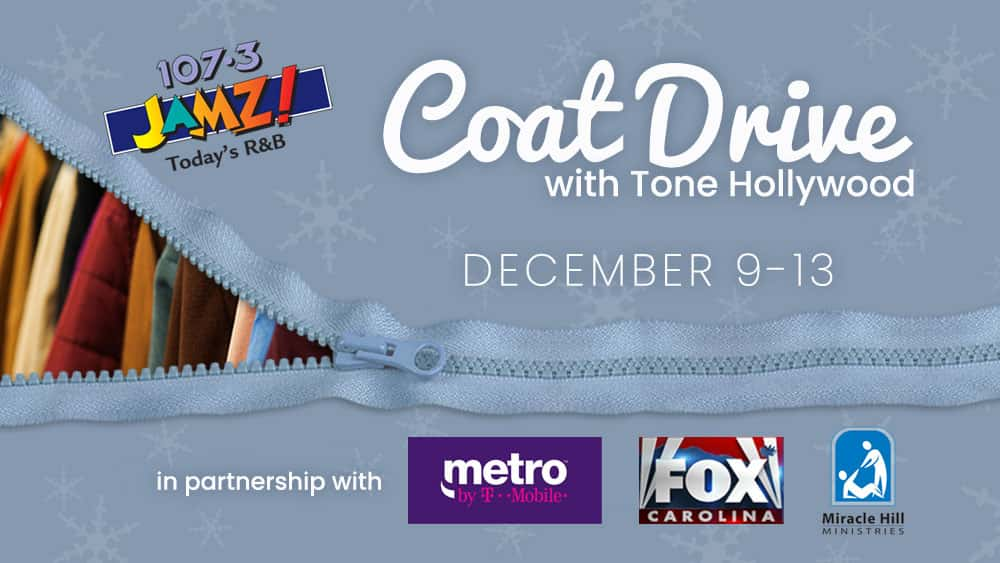 107.3 JAMZ – in partnership with Metro by T-Mobile and FOX Carolina – will be collecting coats and other cold weather items for Miracle Hill Ministries from December 9-13! People in Miracle Hill shelters usually arrive with very few personal possessions—if any at all. You can help meet their basic needs by donating coats and cold weather items. Any donation not needed right away will be sent to their Thrift Stores, which further fund their shelters!

Tone Hollywood will be out collecting *new and gently used* winter coats (as well as *new* cold weather gear like hats, gloves, scarves, etc.) for Miracle Hill Ministries!

Tone Hollywood will be broadcasting his show live from 10am-3pm at the following locations:
(you can also drop off donations Dec. 9-13 at ANY UPSTATE METRO BY T-MOBILE LOCATION during their regular operating hours)
Monday 12/9: Metro by T-Mobile @ 3445 Highway 153, Powdersville, SC 29673
Tuesday 12/10: Metro by T-Mobile @ 25060 WC Dobbins Hwy, Clinton, SC 29325
Wednesday 12/11: Metro by T-Mobile @ 609 White Horse Rd., Greenville, SC 29605
Thursday 12/12: Metro by T-Mobile @ 3120 N. Main St, Anderson, SC 29621
Friday 12/13: Group Benefit Systems @ 337 E. St. John St, Spartanburg, SC 29302 Group Benefit Systems is an authorized agency for BlueCross BlueShield of South Carolina, an independent licensee of the Blue Cross and BlueShield Association
About Miracle Hill:
Miracle Hill Ministries serves children and adults who are experiencing homelessness in the Upstate. Through rescue missions, youth homes, a foster care program, and addiction recovery centers, they help people break the cycle of homelessness to find peace and stability.
Miracle Hill Ministries operates four rescue missions in the Upstate. When the temperature drops below 40 degrees or during extreme weather, these rescue missions serve as emergency shelters for anyone in need of a safe haven.
They also need canned goods for their Food Warehouse, as well as items like soap, toothpaste, shampoo, etc., which you can donate directly to their shelters, but they ask that before you donate, contact the shelter directly to determine their most urgent needs.
Thank you to our partners for supporting the 107.3 JAMZ Coat Drive: