Congratulations to today's T-Mobile Upstate Black History Maker!
Jeanice Durrah
Jeanice Durrah is employed full-time in the financial industry, but she's also a Certified Professional Life Coach, Mental Health Coach, Holy Yoga Instructor (and a Student in the YogaFaith Master Instructor Training), a Guided Christian Meditation Specialist, a Podcast Host, an Author, and a Speaker. She's the CEO of Jeanice Sherai, LLC, a Mental Wellness company whose mission is to Promote WHOLE Minds and PRESENT moments. Jeanice also holds a Six Sigma Green Belt, Masters in Business Administration, Masters in Information Systems, and a Bachelors in Computer Science.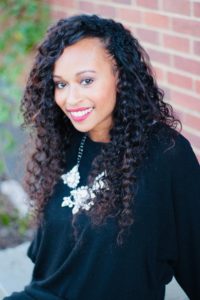 Jeanice Durrah (professionally: Jeanice Sherai) wrote the book "Decide Today is Your Day: 21 Affirmations Guaranteed to Change Your Life." It motivates and empowers women to use their words wisely, envision what they want, and believe that it will come to pass. Each day, the reader is asked to speak a positive affirmation over their life and journal what this affirmation means to them personally. It is her goal that by the end of 21 days, women across this world will have begun a lifelong journey of speaking over their days and lives and meaning exactly what they have spoken. Her goal-setting workbook, called "Goal Diggers: Get Ready. Set. Goals" is designed to help the reader dig deep to understand their purpose, vision, goals and the obstacles standing in the way.
She is the Co-Founder of a Women's Spiritual Retreat called "Queen of the Mountain" that is held annually in order to provide a space for women to come together to be restored, release what is heavy to God, relax, and draw closer to God in their season. She also is the Founder and Co-Leader of Green Pastures: A Restorative Online Space for Women. Green Pastures was created with the Intention of teaching women to REST.
Prior to the pandemic, Jeanice led a monthly, in-person Holy Yoga Class called "Gratitude Sunday," designed to  her clients to be thankful in all things, for that is the will of God (1 Thess 5:18). These classes were sold out monthly with a waiting list! She also leads Holy Yoga and Meditation Sessions that help her clients truly hear what God is speaking to them in their situations and seasons.
She is a Professional Leadership Coach who has coached autistic adults, at-risk teenage girls, and women who want to push forward into the life God has promised them. Through her Leadership workshops she utilizes a specially-crafted curriculum titled: ThinkBIG.
Jeanice Sherai was featured as the Opening Speaker at the Dear CLT Brunch in Charlotte, NC. She has also been a featured writer for Forbes recognized, Boss Babes and She Wins Society (formely known as Women By Choice). Jeanice was previously a Women's Ministry Lead at Duncan Creek Baptist Church, leading yearly women's conferences that pulled together women from all over to meet in a common place to hear from God.
Jeanice currently resides in the Carolinas where she enjoys nature, traveling, fitness, and spending time with family and friends. She is a Jesus Lover and enjoys volunteering and serving in the local church.
Congratulations on being named a 107.3 JAMZ 2021 T-Mobile Upstate Black History Maker!
Thank you to our Sponsors!