Congratulations to today's T-Mobile Upstate Black History Maker!
Dr. Shaniece Criss
As our country – and the whole world – battles the COVID-19 pandemic, people like Dr. Criss analyze the data to help understand how and why health disparities between different groups of people exist, so we can start to close that gap, and improve the overall health of our community.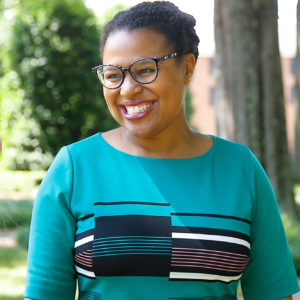 Dr. Shaniece Criss is a Health Science faculty member at Furman University and a community-engaged qualitative researcher addressing health equity and health communication. As a founding member of the Big Data for Health Equity Research Collaborative, she works with university researchers from across the U.S. to investigate how societal issues impact health.
Dr. Criss aims to integrate the fields of social epidemiology, behavioral sciences, and health communication to influence public policy and create interventions to improve population health. Specific topics include: health equity, social determinants of health, media effects on health, health policy, obesity, tobacco, and adolescent health.
At Furman, she partners with the Institute for the Advancement of Community Health as an academic lead on projects with Prisma Health-Upstate and LiveWell Greenville. She is also a fellow of Riley Institute's Diversity Leaders Initiative, Shi Institute for Sustainable Communities, Shucker Leadership Institute, as well as, a Gallup-Certified Strengths Coach.
Dr. Criss is an elected official on Travelers Rest City Council and serves on the board of directors for Prisma Health, Public Education Partners, Greenville Women Giving, and Dining for Women. In the past, she served on the Greenville County Human Relations Commission, Travelers Rest Municipal Election Commission, and YMCA Teen Services Advisory Board. Recently, she was recognized as one of eleven leaders from across the state with the "Women Vision SC" Award from ETV. In addition, she was named a "ChangeMaker" by Multiplying Good and inducted into the Greenville County Schools Hall of Fame.
With a passion to implement effective interventions and policies, she earned her doctorate from Harvard T.H. Chan School of Public Health and Master of Public Administration from Harvard Kennedy School of Government, where she was awarded a Presidential Public Service Fellowship. She has a Master of Public Health from Emory University and an undergraduate degree in communication from Oglethorpe University. As a public health practitioner, Dr. Criss served as producer and host for a national television show for the Ministry of Health in Guyana during her Peace Corps service. She also held positions at ICF International, Centers for Disease Control, and CNN.
Nominated by Furman University
Congratulations on being named to the 107.3 JAMZ 2021 T-Mobile Upstate Black History Makers!
Thank you to our Sponsors!