Congratulations to today's T-Mobile Upstate Black History Maker!
Randy Jackson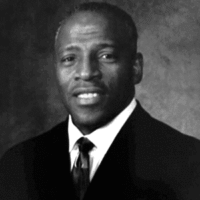 Randy Jackson is the Executive Director of the Phillis Wheatley Community Center in Greenville. Learn more about the PWCC below!
As Executive Director, Randy Jackson is responsible for the strategic development and operation of the PWCC's staff, programs, and mission. The Center offers a wide variety of enrichment activities geared towards youth and families, including programs for the Arts, Health and Wellness and Education. In the past year, however, Mr. Jackson saw a need greater than what the Center typically provides.
With the onset of COVID-19, Mr. Jackson and his team worked tirelessly to add emergency food services to the center, and shifted to offer programming in a virtual format so participants could stay healthy and engaged.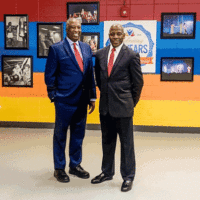 Mr. Jackson is not only the Executive Director, but he is an alumnus! Mr. Jackson, along with Board Chair Ray Lattimore (pictured, left) grew up attending PWCC, where they played sports, swam and learned the value of teamwork. Today, Mr. Jackson leads the organization, to provide the same kind of support and access for the children and families that attend.
Mr. Jackson is also president of First Merchant Services, LLC, based in Greenville. First Merchant Services provides personalized processing solutions to businesses across North America, with products designed to process many types of payments including debit and credit cards, as well as check guarantee services, payment gateway services and others.
He is a graduate of the University of South Carolina and lives in Greenville.
Congratulations on being named to the 107.3 JAMZ 2021 T-Mobile Upstate Black History Makers!
---
About the Phillis Wheatley Community Center
PWCC is a non-profit organization that has helped individuals and families in Greenville County achieve self-sufficiency for over 100 years! The organization provides programs and services that address the physical, emotional, academic, and social needs of the community so that lifelong success is attainable for everyone. Donate to the PWCC here!

The center is named after Phillis Wheatley Peters, the first African American author to publish a book of poetry. In Boston, where Phillis lived as an enslaved person to the Wheatley family, she learned to read and write and quickly took to poetry. Her skills flourished and by the time she was 18, she had a collection of 28 poems.
Hattie Logan Duckett founded the community center just over a century ago in 1920. At the young age of 23, wanted to to provide young girls with the opportunity to mature into productive citizens, and so she founded The Phillis Wheatley Community Center.
---
Thank you to our Sponsors!