Congratulations to today's T-Mobile Upstate Black History Maker!
Brandon Simpson
Brandon has always had a passion for educating the youth and encouraging Black males to enter the field of Psychology. In doing this Brandon created the organization #PsychologyBlack to encourage Black males to enter into the psychology field. #PsychologyBlack is a nonprofit organization whose mission is to educate the Black community on the importance of mental health counseling and seeking mental health treatment when needed. #PsychologyBlack is dedicated to taking the stigma out of mental health counseling for the Black community. Removing the stigma will not be an easy task, but Brandon is prepared and patient to meet this challenge in order to help the Black community fully understand the benefits of mental health counseling and awareness of a healthy mental well-being.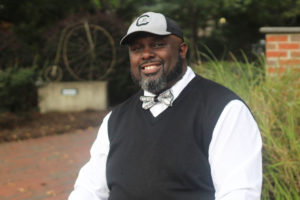 Brandon D. Simpson hails from Cross Hill, SC, and is currently a Professor of Psychology and African American Psychology at USC of Union. Brandon is also the Director of Disability Services, which includes organizing accommodations for students that may have difficulty learning. Brandon is the first African American to serve in this position for USC of Union. Disability Services serves students whom have learning or physical disabilities by providing accommodations that are specifically catered to those students. These accommodations will allow students to continue their educational journey without being hindered by their disability. The goal of Disability Services is to ensure that all students have a fair chance of being successful in the classroom. Brandon's motto is that "no accommodation is too small for a student to be successful in the classroom".
Brandon also serves on the USC of Union Diversity, Equity, and Inclusion Committee. This committee is devoted to creating a campus environment that will effectively address issues of diversity and inclusion. Initiatives, events, and activities will help to create a campus that will be in accordance with the Carolinian Creed and will work to discourage bigotry and any other forms of discrimination.
Brandon is also serves as advisor to the USC of Union African American Alliance. The mission of the African American Alliance is to raise awareness about systemic racism and discrimination and to develop ways to address these issues in a safe environment. The AAA is an all-inclusive group and students are encouraged to interact with other students in order to create a more diverse campus.
Brandon is a 2001 graduate of Voorhees College located in Demark, SC, where he obtained his undergraduate degree in Criminal Justice. He obtained his Masters in Mental Health Counseling from Webster University in 2010 and is currently completing his doctoral studies in Educational Psychology at Walden University. Brandon is also a proud member of Phi Beta Sigma Fraternity Inc. (Omicron Lambda Sigma Chapter, Newberry, SC).
Brandon enjoys spending time with family and friends and just enjoying life. He firmly believes that with God, all things are possible. Brandon believes "we just have to patient and wait on God to place us where we need to be." He is also a proud supporter of the Black Lives Matter movement and its goal to bring social change to America.
Congratulations on being named to the 107.3 JAMZ 2021 T-Mobile Upstate Black History Makers!
---
Thank you to our Sponsors!