Congratulations to today's T-Mobile Upstate Black History Maker!
 Lillian Brock Flemming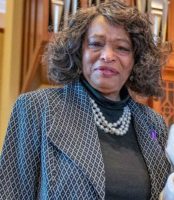 Growing up in the Southside community of Greenville, Mrs. Lillian Brock Flemming was pushed to succeed by her parents. Her parents always lived by the passage, "All things are possible if you trust in God and do his will." Having that in mind, she has always focused on achieving excellence.
After graduating with honors from Sterling High School, that fall, she was one of the first three African American women to attend Furman University.
She obtained a bachelor's degree in 1971 and Master's Degree in Mathematics in 1975.
In 1971, she began teaching math at Southside High School in Greenville, SC, and was named Teacher of the Year in 1976 and 1994. She was also the 3rd finalist for Teacher of the Year in the Greenville County School District.
In 1980, she served as president of the Greenville County Education Association. She became the Employment Specialist for the District in 1994. She is a Furman University Trustee, lifetime member of the Girl Scouts of SC – Mountains to Midlands and serves on both the board and the personnel committee. She is also a lifetime member of the Greenville branch of the NAACP.
Mrs. Flemming is a 40-year city council member, and she was the first African American woman to join city council.
She is also the first city council member to be elected for five consecutive terms since the 1960s. Having been elected by her council colleagues as Vice Mayor Pro Tempore in 1983, she was also elected Mayor Pro Tempore in 1989. She served with the National League of Cities. She is a Board Member of the Municipal Association of South Carolina, and the past President and co-founder of the Conference of Black Municipal Elected Officials of South Carolina. Mrs. Flemming has received numerous awards and honors including: Outstanding Young Women of America, Phillis Wheatley Postfellows' Martin Luther King Leadership Award.
In honor of her leadership, Furman University awards the Lillian Brock Flemming Leadership Award to an outstanding minority senior each year.
Mrs. Flemming and her husband, Rev. J.M. Flemming have also been foster parents, in addition to having their own children.
After 46 years of service, she retired from Greenville County Schools. Mrs. Flemming dedicated herself to helping people within the community, producing a longstanding record of charitable work that will leave a lasting impact on the Upstate.
Congratulations on being named to the 107.3 JAMZ 2021 T-Mobile Upstate Black History Makers!
---
Thank you to our Sponsors!