Congratulations to today's T-Mobile Upstate Black History Maker!
Selena Smith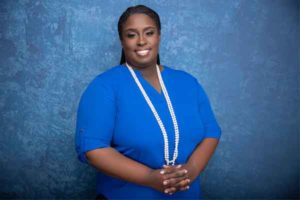 Known as "Coach Selena" for her natural leadership abilities, Selena Smith has always been active in her community growing up. Today, she takes a stance in the Upstate by attentively assisting the needs of both young and elderly residents who are in dire need of housing or insurance.
Ms. Smith is the founder and CEO of her own non-profit organization, Find Your Voice in Life. Through her organization, she works with people to help make a successful change in their lives.
She has helped over 100 Upstate families secure resource assistance and provided one-on-one case management in the areas of budgeting, housing, education and employment.
Being a Licensed SC Health Advocate where she is certified in life, accident and health, Ms. Smith has been working overtime to assist many South Carolina residents attain access to affordable healthcare. She pushes for healthcare to be minimal- to no-cost through her own business, CS Consulting Group. At the start of the pandemic, she helped individuals upload forms and documentation to SCDew to attain their unemployment benefits, as well as helping senior residents with health benefits, making sure they have the best Medicare services. Her work with both federal and state-based grants has led her to provide personal, professional and career coaching to many individuals to assist them in bettering their lives.
Ms. Smith is a native of Woodruff, South Carolina, where she graduated from Woodruff High School in 1996. After high school, she attended the University of South Carolina, obtaining a Bachelor's Degree in Psychology and Business in 2003, and a Master's Degree in Business Administration from the University of Phoenix in 2017. She is also a member of the Alpha Kappa Alpha Sorority Incorporated.
Furthermore, Ms. Smith is a consulting professional with over 15 years of experience in coaching individuals on the importance of financial literacy, career development, college administration, counseling, and community healthcare. She has previously taken on the roles of wealth management, private banker, and federal grants coordinator. Coach Smith holds the title as a certified notary public and medallion sealant.
Ms. Smith is a member of several boards and organizations such as Spartanburg Young Professional, South Carolina Association of Colleges and Employers, Society of Human Resource Management, Spartanburg Area Chamber of Commerce and the SC School Improvement Council-District 6 Schools.
Congratulations on being named to the 107.3 JAMZ 2021 T-Mobile Upstate Black History Makers!
---
Thank you to our Sponsors!