Congratulations to today's T-Mobile Upstate Black History Maker!
Odiri Igbeyi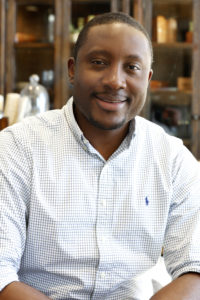 Odiri Igbeyi serves the Upstate community as owner and pharmacist of Connected Health Pharmacy, an innovative, patient-centric establishment intent on providing quality care to its patrons. He brings to his business a wealth of experience in the retail, corporate, IT and pharmaceutical sectors which gives him a unique perspective to his operations and efficiency. His desire to serve and enrich his community is the cornerstone of his endeavors, and he advocates for quality, affordable healthcare combining conventional and holistic practices for whole-body wellness.
A graduate of the University of Lagos, Odiri's pharmaceutical practice intertwined with other professional pursuits, and he found himself relocating to the United States. In 2011, he received his MBA from Oakland University in Michigan, applying his time to Management and IT in positions which honed his management and operational expertise. Through his unique professional journey, he's built a robust resume, never altering his focus on serving others and contributing meaningfully to his community.
His business is built on investing in people and pursuing health and wellness in the community. As a highly motivated and detail-oriented business owner, Mr. Igbeyi understands the value of personal connection and providing quality, customized service.  Growing up in a close-knit family, his father was instrumental in choosing a career trajectory. Odiri credits his grandmother's healing prowess with helping him refine his medical aspirations to embrace pharmaceutical studies.
With nearly two decades of professional experience developing high-performing systems and teams, Odiri approaches his craft with dedication to his customers and quality healthcare services. He welcomes the opportunity to meet new people and enjoys the shared experiences his position in the community affords. A man of faith, he is passionate about serving others and is active in United Network for Global Knowledge Exchange, a nonprofit connecting healthcare professionals across the globe to share best practices in medicine.
In his personal and professional endeavors, Odiri lives by the principle of Ubuntu — "I am because of you." He holds to the tenet that every person deserves to be treated with love, care and respect, especially in their time of need. From downtime with his family to serving his customers and forging community connections, Mr. Igbeyi lives a life of service and commitment to excellence.
Congratulations on being named to the 107.3 JAMZ 2021 T-Mobile Upstate Black History Makers!
---
Thank you to our Sponsors!