Congratulations to today's T-Mobile Upstate Black History Maker!
Pastor Sean Dogan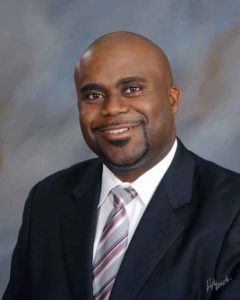 Spreading God's word throughout the community of Greenville, Pastor Sean Dogan is a man of good work and faith. He wants to expand his church and teaching "beyond the walls". He has been the senior pastor of Long Branch Baptist Church for the past 20 years, beginning his pastoral journey in 1997. Pastor Dogan pastors up to 1,100 members weekly throughout the upstate of South Carolina. He is a 1998 graduate from Clemson University, a 2011 graduate of the Shaw School of Divinity in Raleigh, NC, and he also graduated of The Riley Institute Diversity Leadership Initiative.
Being a prominent leader in the community, Pastor Dogan has initiated feeding programs and has always pushed the message about wellness. He partners with Harvest Hope Food Bank, where he services up to 75 families weekly in the Greater Sullivan community of Greenville. He created Farmers Markets for the community in collaboration with Mills Village Farms. He also led his church in supporting youth employment by starting community gardening.
Pastor Dogan has initiated scholarship programs and business grant opportunities that are available for his church members. He has implemented a Readiness Program for his church where they work on interviewing techniques, resume writing and personal support coaches. He serves or has previously serves on the GHS Board of Trustees, United Way Board of Trustees, SHARE Board of Directors, Greenville Forward Board of Directors, LiveWell Greenville Leadership Team, Senior Action Board of Trustees, NAACP, and more. He is listed as one of the best and brightest under 35 by the Greenville Business Magazine. Pastor Dogan is married to First Lady Satreva Dogan where they have three daughters: Ramiah, Nishea, and Terri.
Congratulations on being named to the 107.3 JAMZ 2021 T-Mobile Upstate Black History Makers!
---
Thank you to our Sponsors!