Congratulations to today's T-Mobile Upstate Black History Maker!
Jalen Elrod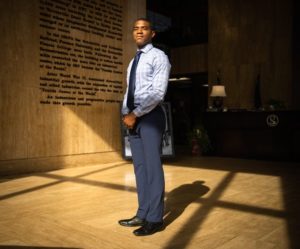 Mr. Jalen Elrod has always had a passion for two things: comic books and politics. But growing up, his real-life heroes were the local and national leaders fighting for equal rights. His family roots have been a part of the West Greenville community for over 100 years, so Mr. Elrod's personal campaign is against the gentrification of the African American neighborhoods in Greenville.
He is a community coordinator who has rallied against gentrification and other social injustice issues in Greenville for several years. He knows people know about it, but they fail to recognize it when it happens in communities around them.
Born and raised in Greenville, Mr. Elrod stepped into his political power at just fourteen interning at the Greenville office for Barack Obama's presidential campaign in 2008. When Obama won the South Carolina primary, Elrod followed the campaign to North Carolina and Georgia.
He has used what he learned in his adolescence to become the prominent community activist, and political leader that he is. He is the Program director at Four Directions Vote, Co-Chair of the Research team of the Community Remembrance Project, a local coalition partnered with the Equal Justice Initiative, to honor victims of racial terror lynching in Greenville County. He is also the former first vice chair of Greenville County Democratic Party, former President of the Young Democrats of Greenville County, and a veteran of numerous political campaigns. He has  donated to several organizations such as the Urban League of the Upstate, the NCAAP Legal Defense Fund and the Equal Justice Initiative in Alabama. He also has helped with voter registration initiatives across the country.
Mr. Elrod wants to see change in Greenville County. He would like to see line items in the city and county budget for affordable housing, implementation of impact fee on developments that would have a great effect on the community and changing the definition of affordability, so it is not linked to median income. Currently, Mr. Elrod is working with a filmmaker to make a short film about gentrification in Greenville.
Congratulations on being named to the 107.3 JAMZ 2021 T-Mobile Upstate Black History Makers!
---
Thank you to our Sponsors!