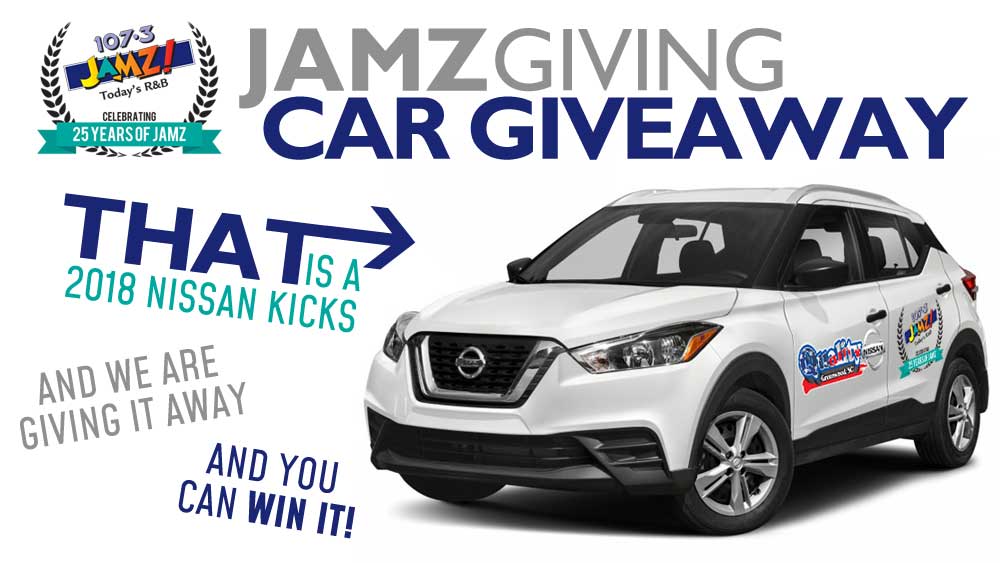 Win a new 2018 Nissan Kicks from 107.3 JAMZ and Quality Nissan!
107.3 JAMZ is celebrating 25 years, and what better way to kick-off our year-long celebration than to give one lucky listener a NEW CAR!?!
How do you win the car?
Step one: win a KEY! Step two: come to the grand prize giveaway to see if it starts the car! (One finalist WILL win the car!!)
We're going to give out at least 107 keys this fall, and there are three ways to win your key (see below). All key winners are invited to come try their key at the grand prize giveaway on Friday, November 30th at Haywood Mall.
How can I win my key?
Listen to 107.3 JAMZ
Each weekday, starting October 1st, listen in the 8am hour to hear what times we'll be giving away a KEY that day! We'll have two contests per weekday, just listen for the cue to call and be the 10th caller at 864-271-1073 or 1-800-767-1073!
Register at a 107.3 JAMZ Keystop
A list of upcoming Keystops is below. We'll draw at least one name from each key stop!

Enter online, at the bottom of this page
Upcoming Key Stops
Brought to you by:

And your station for Today's R&B for the last 25 years: 107.3 JAMZ!
Thanks for listening and good luck!