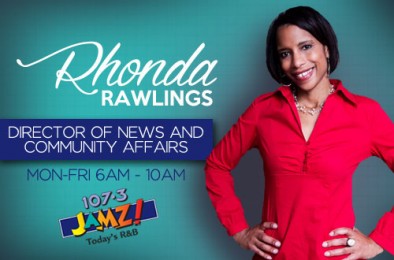 Rhonda is the News and Community Affairs Director, on with the TJMS weekdays from 6am-10am, and host of Pause for the Cause on Sunday mornings from 6am-7am.
Where Are You From? Mount Vernon, New York (Also hometown to Denzel Washington, Sean Combs and Heavy D. and the Boyz)
Tell us your guilty pleasure. Cinnamon Dolce Frappuccinos and Facebook
Something about you that would surprise people. I don't want to tell because I want it to continue to surprise 🙂
Do prefer Vanilla or Chocolate? Mmmmm, chocolate all the way…
Tell us what just irks you? Rude people
Where's your favorite vacation place. My favorite vacation spots are Manhattan Beach, CA and St. Thomas Virgin Islands
If you were Oprah who would be your Gayle? My Gayle would definitely be my best friend since Jr. High, Kim Coley. I wish everyone could have a friend like her in their life.
Most memorable interview? I have a few memorable ones, Martin Lawrence was really great to talk to, Tank was hilarious and former South Carolina Governor Mark Sanford was very interesting.
Favorite Quote. Jeremiah 29:11 For surely I know the plans I have for you, says the Lord, plans for your welfare and not for harm, to give you a future with hope.
What's your favorite day of the week? Friiiiiiidayyyyyy!!!! I go home and just crash!
---
 Submit Your Community Announcement or Event to Rhonda!

 Rhonda Rawlings' Blog